"I wrote a book about Enya and the mystery of taste. It's a musician's memoir and a treatise on unguilty pleasures." — Chilly Gonzales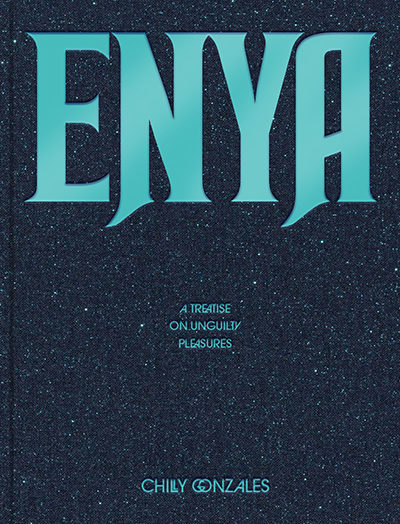 Chilly Gonzales is one of the most exciting, original, hard-to-pin-down musicians of our time. Filling halls worldwide at the piano in his slippers and a bathrobe—in any one night he can be dissecting the musicology of an Oasis hit, giving a sublime solo recital, and displaying his lyrical dexterity as a rapper.
In his book about Enya, he asks: Does music have to be smart or does it just have to go to the heart?
In dazzling, erudite prose Gonzales delves beyond her innumerable gold discs and millions of fans to excavate his own enthusiasm for Enya's singular music as well as the mysterious musician herself, and along the way uncovers new truths about the nature of music, fame, success and the artistic endeavour.
Order "Enya" here : UK edition / North American / German / French / Québec édition / Spanish
Watch Chilly Gonzales and good friend, pianist Malakoff Kowalski, LIVE at the Frankfurter Buchmesse Book Fair, talking about taste, reading from Gonzo's first book, Enya: A Treatise on Unguilty Pleasures, and uncovering new truths about the nature of music, fame, success and the artistic endeavour…